M/S BOHÈME.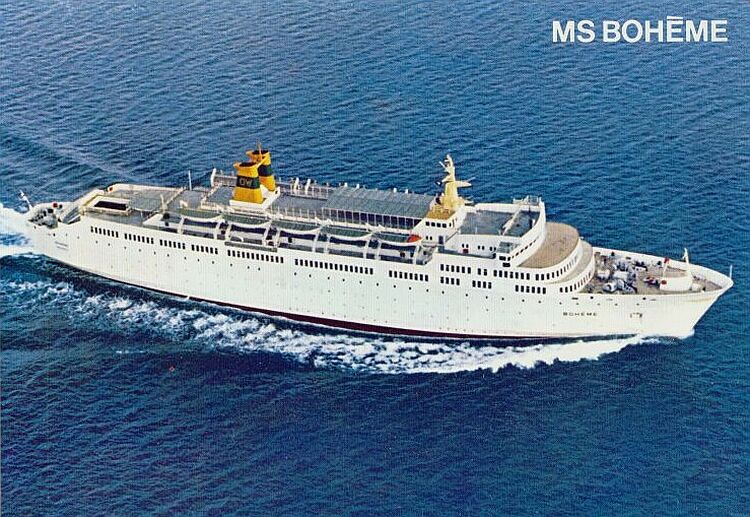 Bohéme with her first livery. Johnny Riert collection
The ship was from the beginning planed as a car ferry between Bremerhaven - Harwich together with a sister ship Prins Hamlet, owned of Lion Ferry Ab, Halmstad. But under completion of Bohéme, the new ferry line didn't work out to be successful as planed. Plans were changed and when Commodore Cruise Line with hotelier Sanford Chobol, which begun in 1967, searching for a suitable ship to compare with Klosters Sunward also a ferry built for the Southampton - Spain trade. The Bohéme lay already under construction and the drawings had to be exchanged to suit for a fully equipped cruise ship. From beginning the two ships was built to go for cruises in tropical waters with closed car decks, under winter seasons. Fore and aft car deck doors was never installed on Bohéme but if looking on the hawse hole its still placed more aft same as a car ferry. When the hull was originally designed for Baltic Sea she also had a strong ice classification. The Bohéme now come to be Wärtsiläs first built cruise ship in an industry which later came to explode dramatically. The family Wallenius was strong personally involved with some interiors design. Especially the daughter Margareta Wallenius put big interest in designing materials and art that was bought from new promising artists in Paris. The planed car deck gets staterooms built in at deck B and C. A small cinema and gymnasium was space for in a cargo hold at D-deck where all the crew cabins also are. Bohéme was beautifully panelled with light Nordic wood panels in the stairways and dinning rooms. Deluxe suits have brown oak panels in cabins. All the public spaces were named after different themes from Puccini's opera Bohéme, when the Wallenius Company uses to name their ships after operas. That's also why the ship gets the name Bohéme.
After the ship had visit Stockholm for a presentation for specially invited guests close related to Wallenius head office in Stockholm. She set course for her first voyage from Stockholm to Miami with first paying passenger who had join for the transatlantic cruise. When passing the Stockholm archipelago she steering an other course than normal to gain time and hit an underground cliff witch cut up the hull and a fuel tank get leak. She start list and the passenger was brought ashore with tenders. After 3 days she was afloat and after a week in Finnboda dry-docks in Stockholm she was ready to go south but this time without passenger. When the ship was registered in Bremerhaven she flies a West German national flag. Deck and engine crew was German nationalities, and in hotel management mostly people from Caribbean islands.
7 Dec.1968 the inaugural cruise for Miami – St: Thomas. Later Commodore was one of the first lines to offer year-round, seven-night cruises out of Miami, and Bohéme was also the first cruise line to establish regular service to Cap Haitien in northern Haiti and the first to call at Puerto Plata in the Dominican Republic.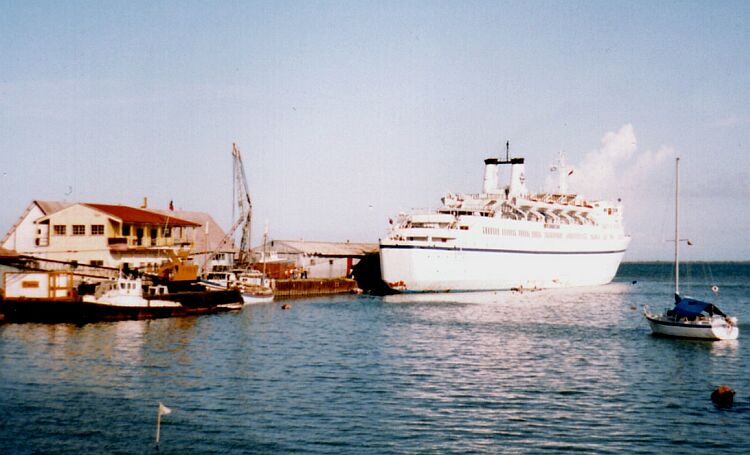 Bohéme at Cape Hatién
When the ship had some trouble because of the yards inexperience with cruise ship she had to be rebuilt at Blohm & Voss, Hamburg 1970. The air-condition was poor and one more STAL screw refrigeration compressor was installed. Bohéme was also the first cruise ship ever with screw compressors installed. There were two new ATLAS freshwater generators built in to the system that time.
Under the years 1970 – 1982 the ship had the same weekly route: Miami - Puerto Plata - St: Thomas and overnight stay in San Juan. P.R. last port was Cape Hatien. The overnights in port are some kind of waterhole for the crew when they have a chance to get ashore. Passenger normally finds their ways to the casino or a good show in nightclub tour. The whole day was then left for shopping in San Juan. As a small ship entertainers also have to do service for passengers on tours. That gives the crew a very close contact with the guests and a family atmosphere onboard. With a lot of repeaters Bohéme was a popular small ship and also soon be "The Happy Ship" with an older crowd, compare to Carnivals "Fun Ships" and it's younger crowd.
When a fuel line was leaking in the auxiliary engine room a big fire broke out there and the ship have to get out of traffic. An other incident was when the air-condition plant broke down so all passenger had to fly home from Puerto Rico.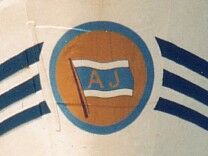 Sally flag, Bohéme
In March 1981 Bohéme was sold to Hanseatic Caribbean Shipping Co Inc, Panama. (Sally Shipping GmbH.) A ferry company who make good profits in the Swedish - Finland ferry traffic and wanted to invest in cruise business. (The Sally Company was the first owner of Viking Sally, witch later on comes to be Estonia who sinks 1994 in the catastrophe in Baltic Sea.) Most of the Germans leave the ship because of new working conditions. The German senior officers stay onboard for the new owner and rest of the officers was now mostly Scandinavians. Sally Company was going to purchase ex Navarino, Gripsholm, under repair work in drydock after the ship had grounded off Patmos, as she was severely damaged, she was to be sold to the Sally Shipping's Commodore Cruises division who intended to sail her after she had been repaired. However, during the repair, a violent fire broke out and destroyed some of the passenger accommodation. In addition to this, the dry-dock collapsed and caused further damages. After that incident, Sally Shipping withdrew from purchase. New deck & engine crew had already been employed in Philippines and was on their way to Greece, they now come to be repositioned to Bohéme instead witch come to be one of the first cruise ship in Miami with Filipino crew.
Bridge deck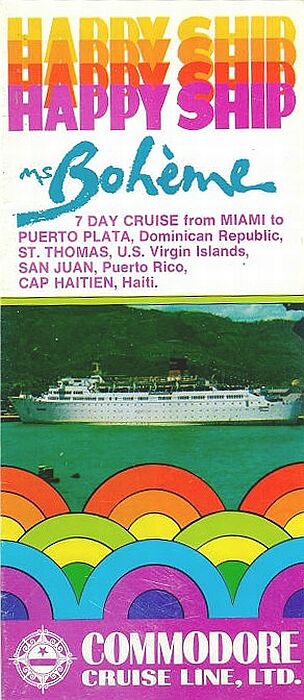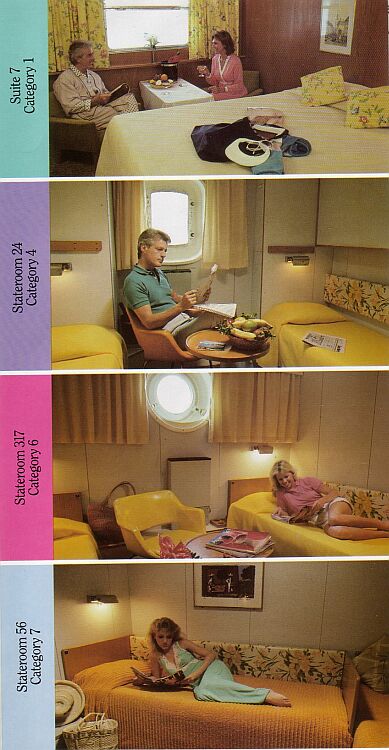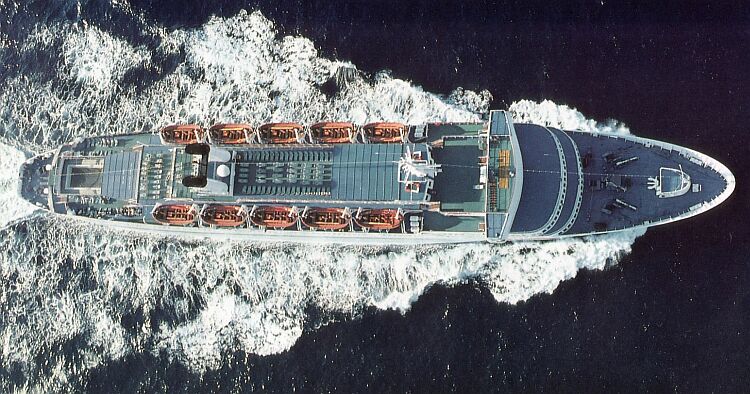 Johnny Riert collection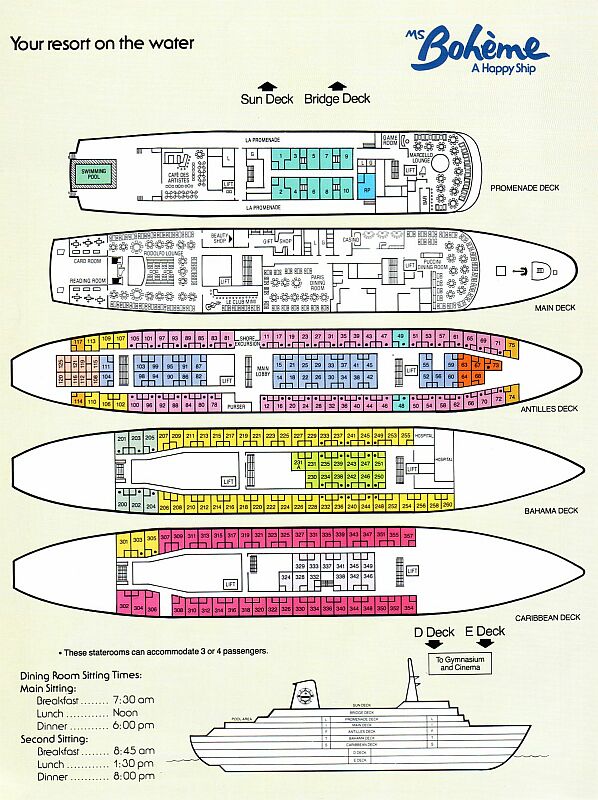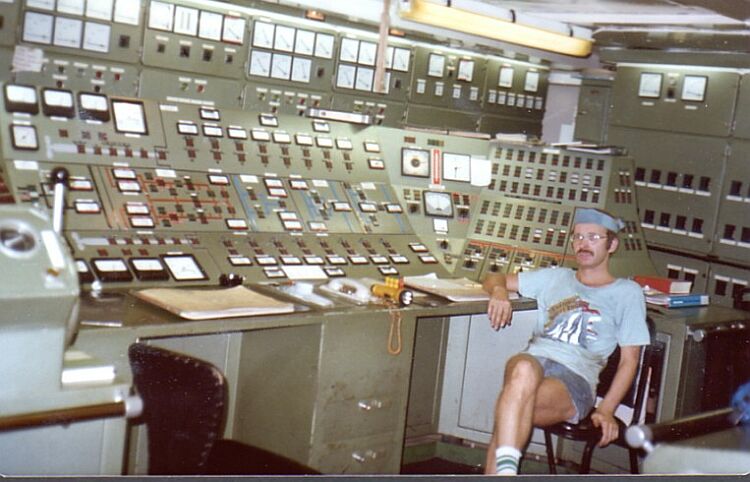 Eng. Control room Boheme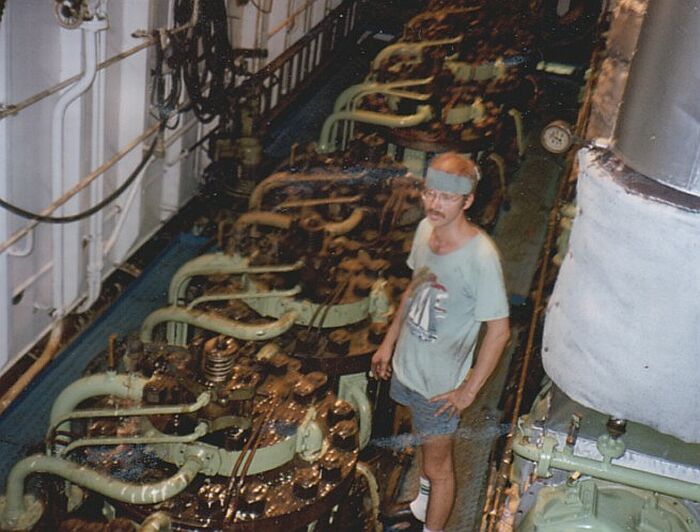 Sulzer Main Eng. Bohéme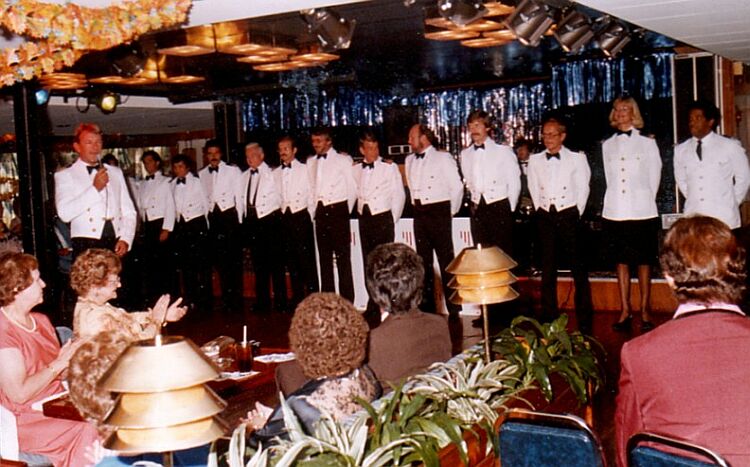 Rodolfo Lounge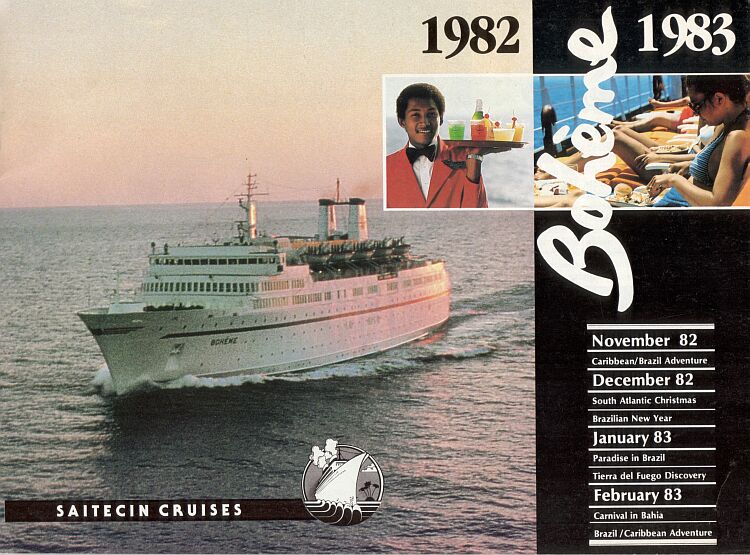 Johnny Riert collection
In the fall 1982 a Brazilian travel agency; Saitecin Cruises, chartered the ship for South American cruises.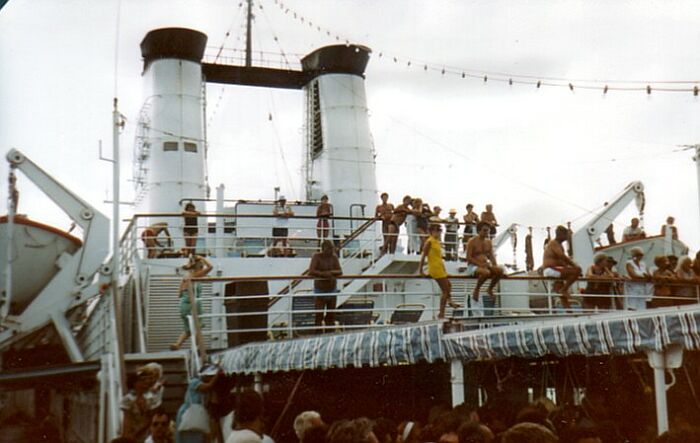 Pool deck area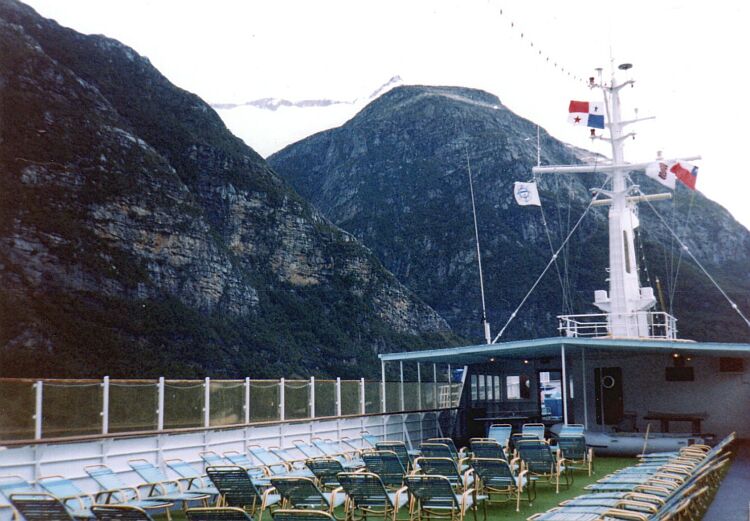 The spacious sundeck with soft green grass carpet deck.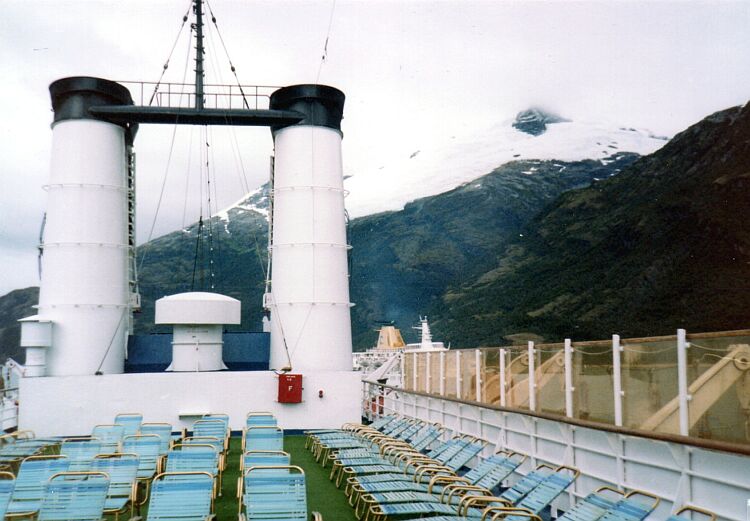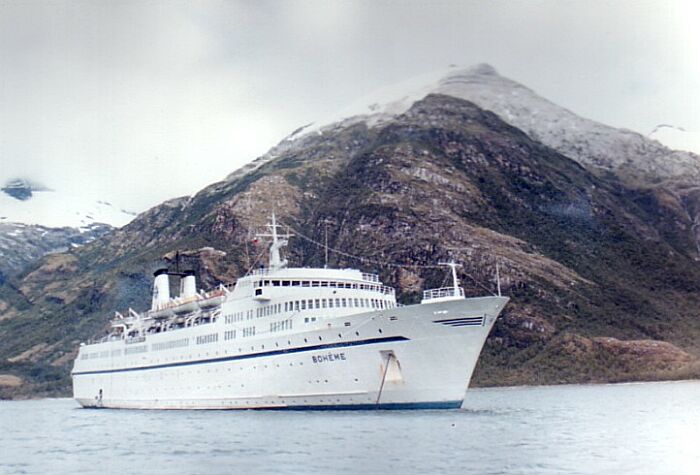 Bohéme in Beagle channel, Patagonia
In July 1983 Saitecin Cruises made an other charter for cruising Miami – Rio de Janeiro,
and back to Miami with mostly Brazilian passenger.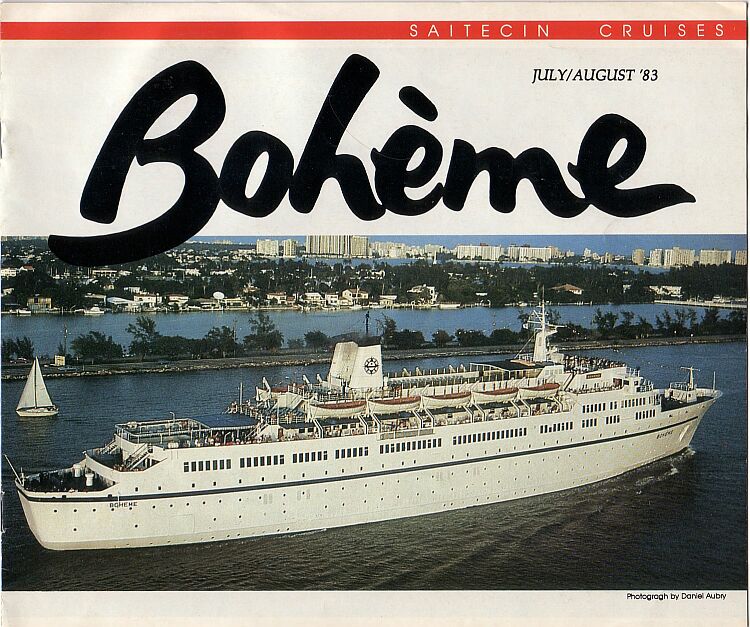 Johnny Riert collection
After 15 years of service the Sally parent company sailing the Bohéme empty over the Atlantic to have extensively refitting in Bremerhaven. In engine room 2 new Wärtsilä 32 diesel generators was installed after a big hole been out cutted in the underwater hull. Also a freshwater maker of osmosis type was installed as a complement to the older ones.
A lot of worn out armchairs get renewed. The dark wood panel in Marcello lounge had a new pink painting and all furniture was exchanged. Puccini dinning room had a similar conversion. The cosy Le Mimi bars black leather sofas had a new textile dress in blue in accordance with the blue curtains. Most of the carpets in public areas were renewed.
Mirrors instead of oak panelling in the main entrance get a wider opening look. The hull had painting in the Wärtsilä image with straight blue lines true window areas. Funnels get a spray shaped rainbow design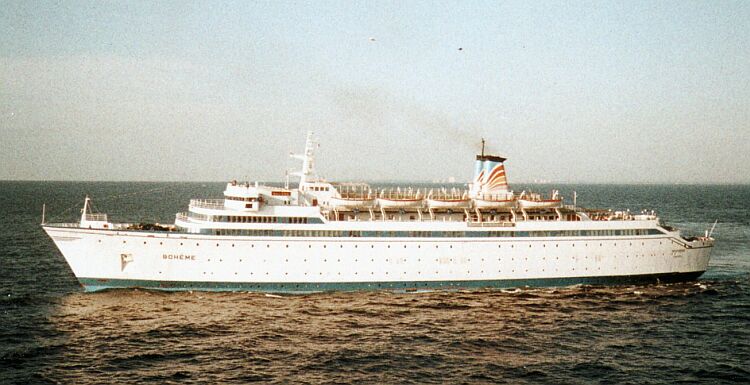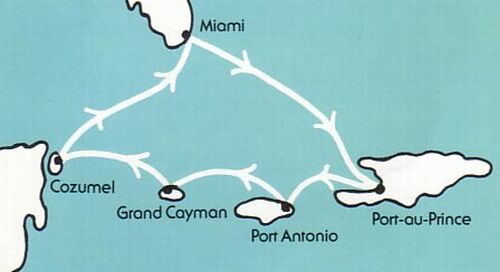 Under 1984 Bohéme gets a new itinerary out of Miami – Port au Prince – Port Antonio – Grand Cayman – Cozumel. This schedule was too tight due bad weather and engine trouble and just ended for this year.

Bohéme in Cozumel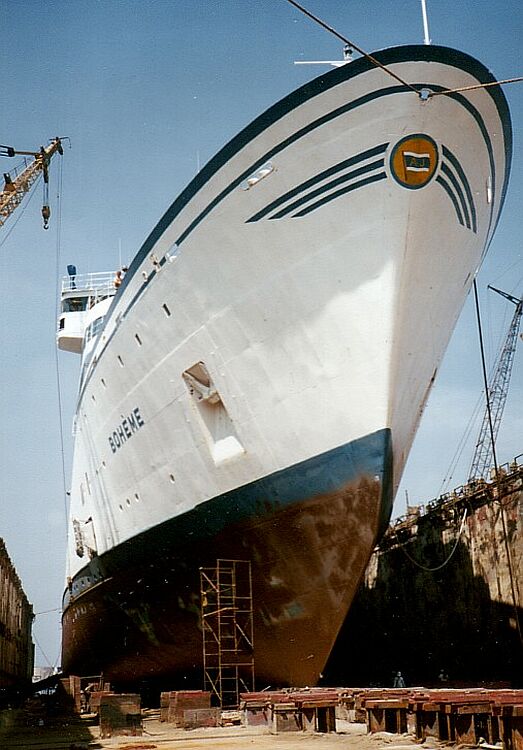 Dry-dock Mobile 1984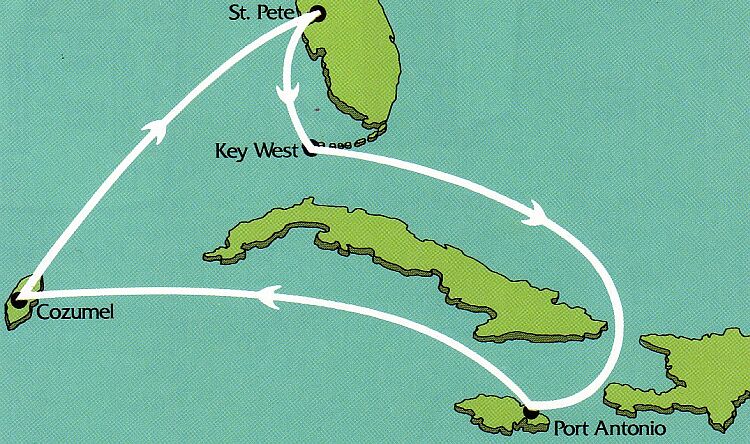 In 1985, the Bohéme began sailing out from St. Petersburg on weekly cruises to Key West, Jamaica and Cozumel. Bohéme moved at close quarters their main clientele, the retired people from the Florida west coast.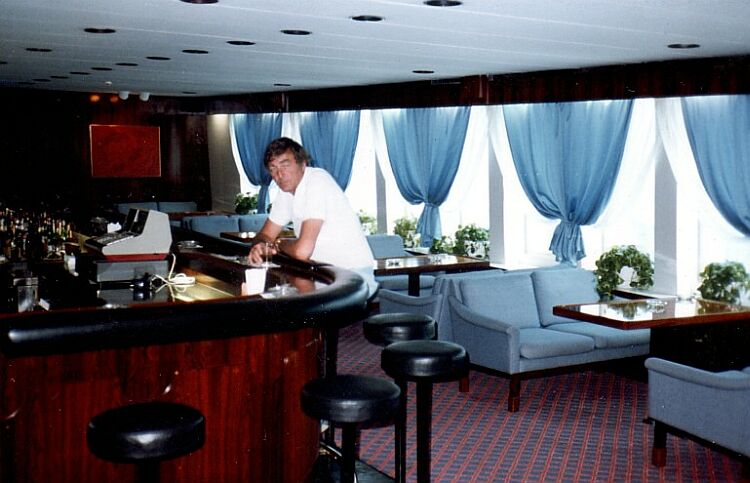 Le Club Mimi, with its classic atmosphere.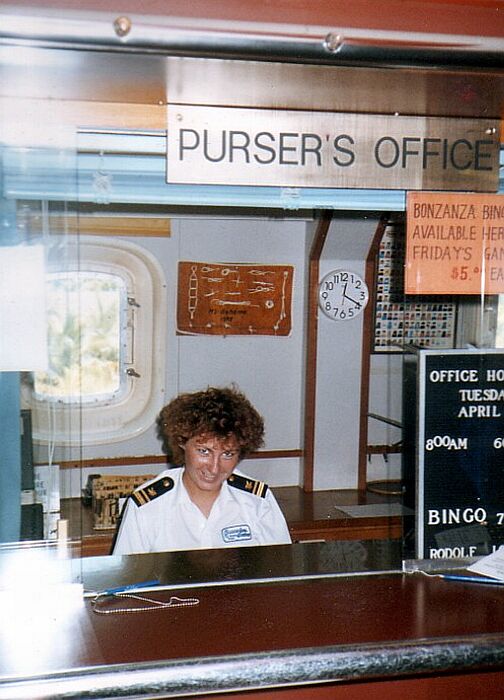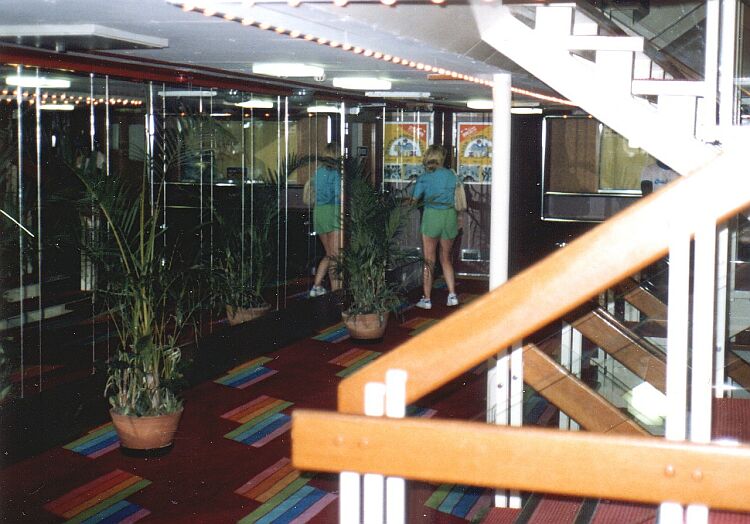 The mirror walls Main Entrance with purser's office to the right.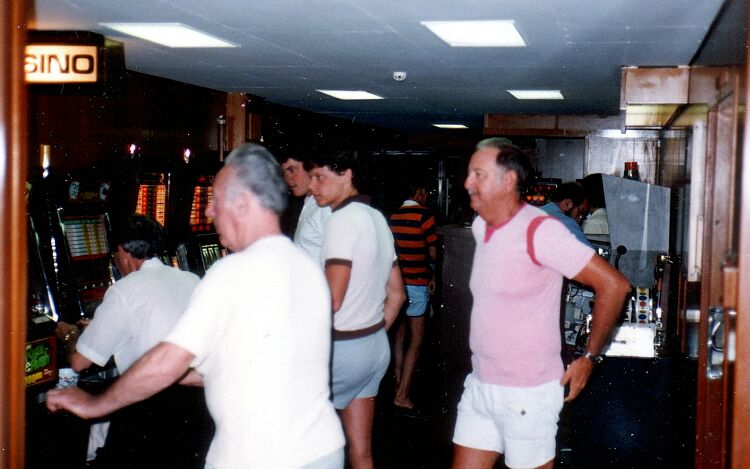 Main deck arcade with slot machines.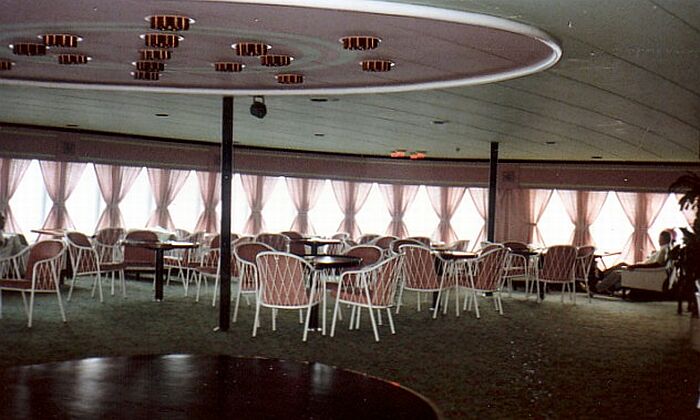 Marcello Lounge will in the nighttimes be disco.
Puccini dinning room has ocean view all the way.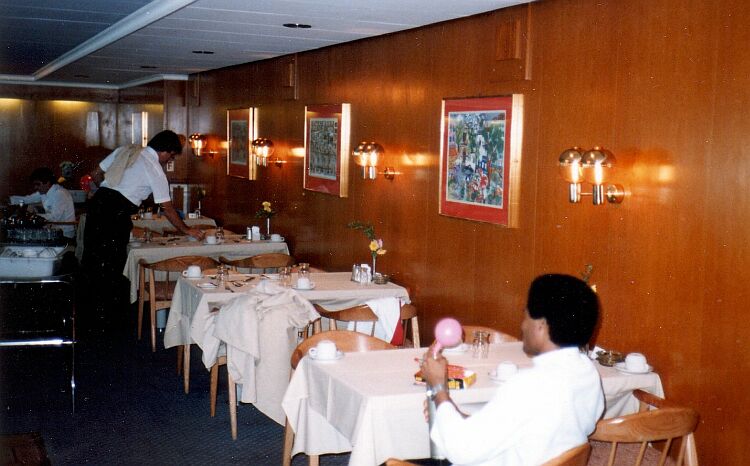 Paris dinning room with its original design.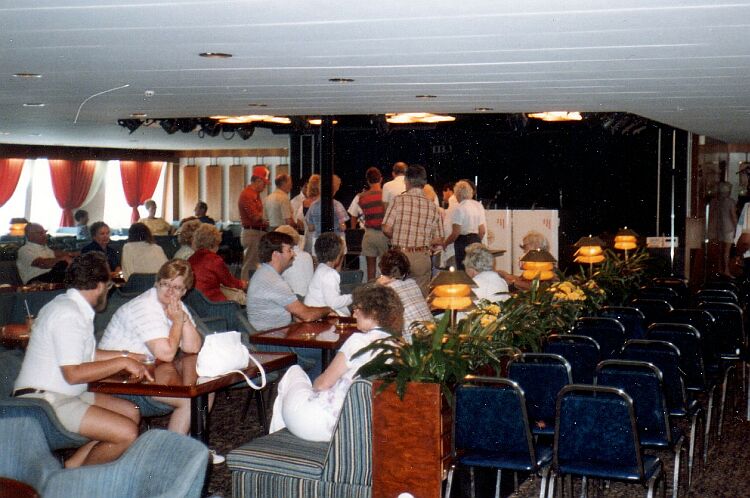 Rodolfo Lounge for Showtime's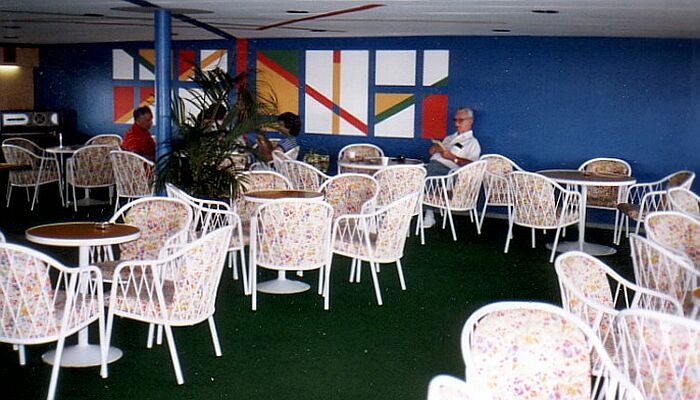 Café des artistes close to pool area.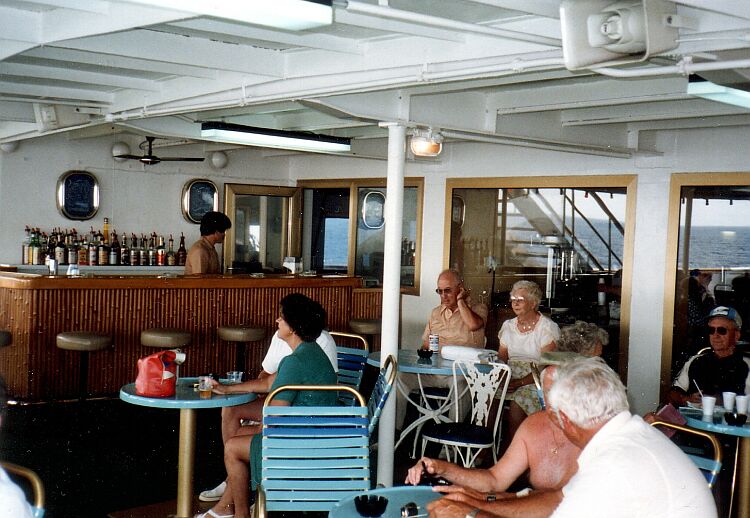 Pool Bar with bamboo desk and green grass carpet all over.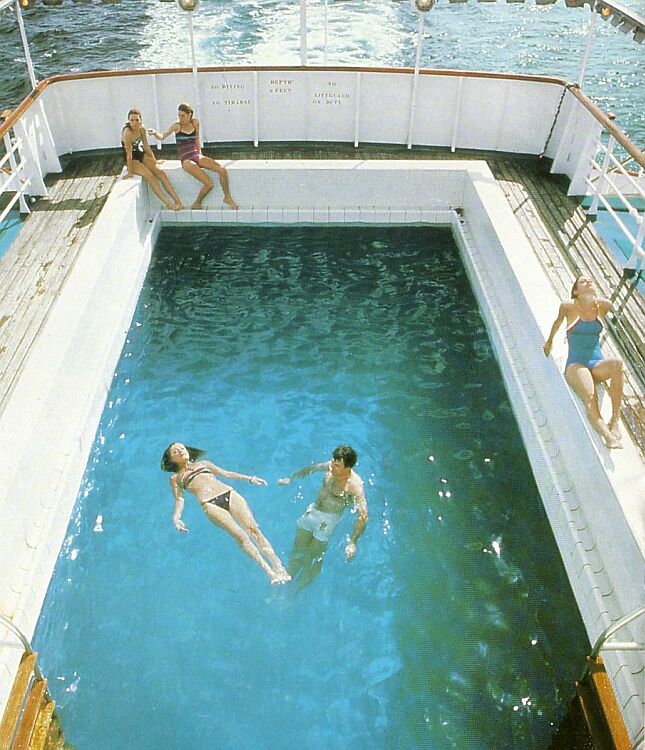 The pool surrounded with the ships only teak deck. Johnny Riert collection
In September 1986 Sold to San Donato Properties Corporation, Panama. (Majestic Cruise Line) for $10 million. They renamed this ship Freewinds and Majestic Cruise Lines operated it for the Church of Scientology. The Flag Ship Service Organization (FSSO) is a unique church of Scientology which is located aboard the Motor Vessel Freewinds, with the home port of Curacao. The ship was acquired shortly before the release of the highest advanced auditing level currently available, New OT VIII. The plans for the ship were ambitious: They wanted to convert a restaurant space into course rooms for the delivery of OT8 and to convert a lounge area into a restaurant. All of the cabins were to be upgraded and in some cases two or more cabins brought together to make suites. Some cabins were converted into offices for the IAS (International Association of Scientologists). In short, every space of the ship was to be converted or remodelled in some way.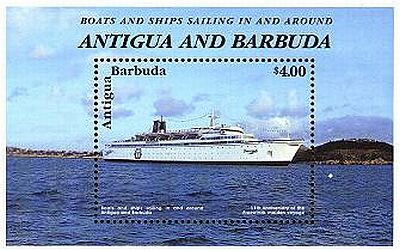 The Freewinds on a stamp.